Voted Readers Favorite Top Decorating Blog Better Homes and Gardens, Decorating Ideas, How to Organize, How to Decorate, Interior Design Blog
Welcome! Im so glad you are here!Sign up for my newsletterto stay in touch!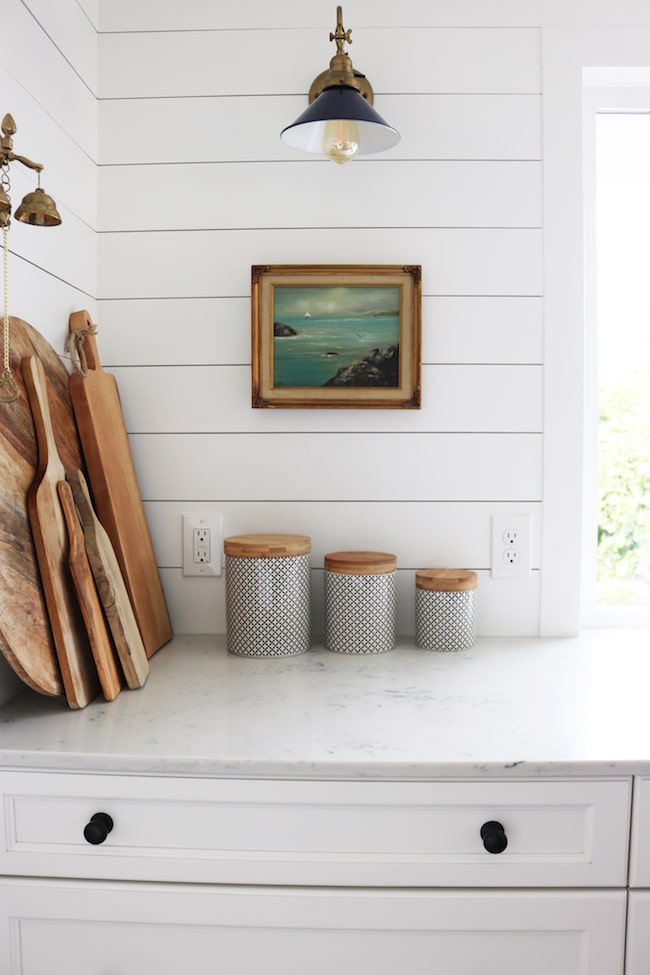 Who loves organizing? Or maybe a better question, who loves an organized space?
Ive promised yall for awhile that I would open up more of our cabinets and drawers to show you inside. So today Ill be sharing Before & Afters of four areas in my kitchen that werent working for us along with the solutions we came up to make them work better, featuring some items we got from theBed Bath & Beyond line.
In a small (ish) kitchen (especially if you dont have a walk in pantry or freestanding island for additional storage!) every square inch of drawer and cabinet space counts. Organization not only increases the functional space, but I think it enhances the enjoyment of daily tasks, too.
Yall know I love my coffee stations. My mug tree on the counter holds all of our coffee cups so that system was working well for saving space in drawers. But my other coffee supplies were not well-organized at all. Somehow I ended up with bakingandcoffee supplies in one drawer, with a bunch of other random stuff thrown in.Gah.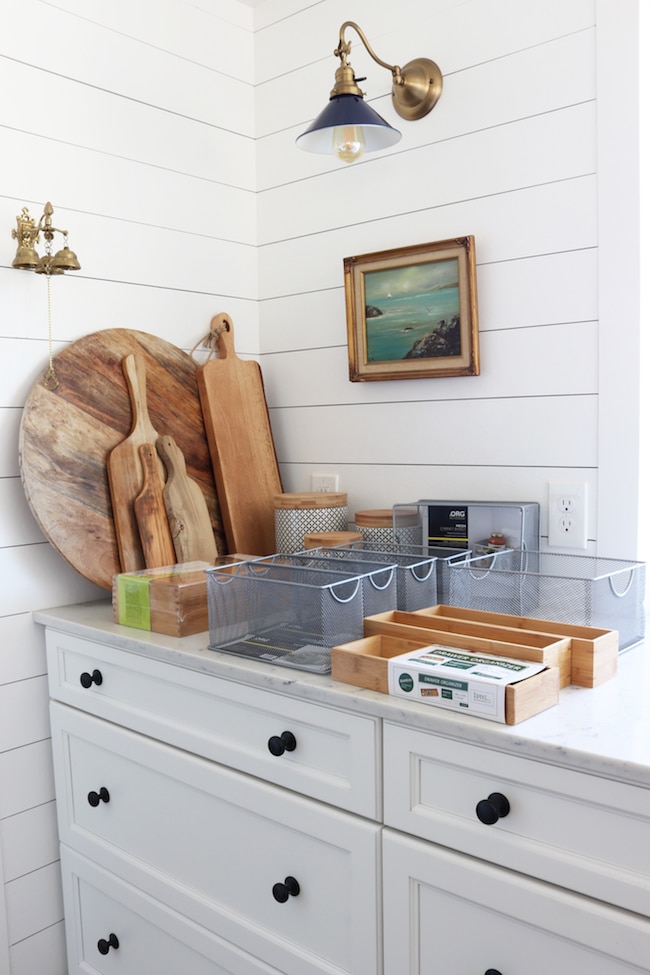 In my book, Simple Organizing, I suggest a kitchen be organized into zones for efficiency. While there are times particularly in a small kitchen where you might have to mix zones, there was really no reason for me to have bakingandcoffee supplies combined in one drawer. 🙂 Yet, true confessionsI did.
Ackkkk!This drawer was overflowing. It was so stuffed that some of the coffee supplies that should have been in the drawer had to stay on the counter and yet, some random baking supplies stayed.
So a couple of days ago I finally took everything out, including the bags of our Christmas cookie cutters that took up one large corner of the drawer. 🙂 Those can definitely be stored somewhere else besides the drawer I open on a daily basis!
Once we took everything out, we only put back in the coffee and tea supplies. organizersfrom Bed Bath & Beyond were so helpful in making better use of several drawers and cabinets. By grouping items together in the new bins, now we clearly know where to look and can see what is in the drawer the minute we open it. No more digging around or wondering where things are!
You guys, now opening my organized coffee drawer feels like the heavens open up and angels start singing. It literally took just minutes to reorganize the drawer, but now it makes me happy every single time I open it. Its the little things.
We put our loose leaf tea tins together in an basket. The .ORG baskets are so perfect for organizing all the things. Our tea bags and little accessories are organized in a coolwood boxwith a lid (see the lid opening in the photo, above?!). The box is so attractive it can bet set up on the counter if we want to use it to serve teas, too.
Now that our supplies are better organized Im not going to be embarrassed when Im offering guests a hot drink! Plus its like a treat to myself to make a cup of tea or my morning coffee.
The drawer above it was also unruly. I love using it for little espresso cups, small bowls and measuring cups because its shallow. But because the space inside wasnt clearly defined, it ended up with random stuff in it, too (including more cookie cutters, and I dont bake sugar cookies except sometimes at Christmas, ha!).
The thing I am always looking for in this drawer are the small espresso cups and shot glasses (the girls and I use them to drink our favorite health beverage every afternoon). Because the cups are small they were always hiding among the other objects. It was kind of like looking for E.T. in the closet of stuffed animals! But no more, now weve got a better system.
An basket and a couple of wood dividers brought order to the entire drawer! Our little cups have a home and theres a space for everything we need.
And we have a designatedspotfor things we just like to see because they make us smile, such as our knit fox scrubbies. 🙂
I also got thecanistersthat are on the counter above the drawers. Arent they adorable?! I love them. Im thinking Ill use one for ground coffee, one for biscotti to go with my coffee :), or maybe dog treats for the pups?
This wall cabinet was a bit annoying to everyone, especially on grocery shopping day. There was no real system. It didnt really lookthatbad, it just wasnt tidy or efficient. We thought about how to use the space better, and all we really needed was to group things together in easy-to-grab baskets and add ashelf riser. Easy peasy!
Grouping items together is SO SIMPLE but it really makes such a difference. It not only looks less chaotic, but being better organized just makes you feel more aware of whats already in the cabinet.
Plus its easy to take a basket off the top shelf to see what the options are when youre trying to decide whats for dinner.
The riser doubled the space we have for shorter items like boxes of beans. Now after we grocery shop to restock, we dont have to pile boxes up and then watch them all topple over and out of the cabinet when the one we want is at the bottom. 🙂 Fun pre-dinner activity, yes, but whos got time for that?
I love the two roll out pantry drawer cabinets we were able to literally squeeze into the kitchen when we remodeled. We have one on either side of the fridge. Its so handy to be able to pull the drawer out, you can use the entire surface and see all the way to the back so nothing gets lost.
TIP: If you are remodeling a small kitchen, you will want to measure very carefully to make sure you are not only maximizing each available square inch, but that you will also be open cabinets and drawers. Ha! The person who first measured for our roll out pantry cabinets measured incorrectly. Fortunately we double checked before the order was placed! Crisis averted and these drawers open with ease.
The contents of our pull out drawers didnt look horribly disorganized, but I was excited to streamline everything and be more intentional with our storage here.
I dont like to keep food in bags, so we added more jars! We used thesevintage style jarsandthis set of square ones.
We also moved our mixer to the bottom pull out. It was often on the kitchen counter but we dont use it regularly enough to justify the counter space, so I kept it downstairs sometimes. But I didnt like lugging it up from the basement when I needed it!
Since we had the room for it in this cabinet, keeping it here is still convenient but frees up the counter when we dont need it. We do the same with our toaster!
My next step will be to label the jars to make it easier for all chefs in the kitchen to identify the contents.
We tucked binbehind the glass jars to corral little items and things that arent in jars. Its easy to see whats in the bin when you roll the drawer out!
Im feeling great about how functional this cabinet is now!
Whats the most disorganized drawer or cabinet in your kitchen?
Black Floral Lattice 3-Piece Canister Set
Metal Mesh Expandable Cabinet Shelves / Risers
Vintage Inspired Glass 1 Gallon Storage Jars
Ive always been quite inspired by gates. They arent just a way to keep unwanted visitors out or beloved pets in, the right gate can feel like a special invitation to enter a secret magical garden. You know what I mean?
As far as Im concerned, a gate doesnt even have to be fancy (but a little charm is nice!), I just love what they represent. I actually go gate hunting in neighborhoods as often as I go just to drool over houses!
You may have seen those two gates from my previous drive bys. If you missed them, you can find the drive by postshere. But if youre curious about our gate
Were still Gateless in Seattle, at least on this side of the house.I know.
Years ago (insert eye rolls over how long its been) I started talking about how excited I was about installing a gate to our side patio.
In fact, we had two other gates built around that same time, the double gate between our side yard and backyard (which we just painted, you can see a bit of it above) and a single gate on the other side of the yard (above).
But the side patio gate? It didnt get done. Its a long story, just a series of unfortunate events. So we still have to use a bench and assorted garden supplies piled up in the opening to keep the dogs in. I agree, its truly quite ridiculous.
The good news is we finally have a new contractor lined up that Im confident is going to do the work (thank goodness for Lowes contractor service, I shouldve called them years ago! So much easier.). The new contractor is going to build our gate and wrap our side porch posts with wood trim (which weve also been waiting on for a long time! Wrapping a post gives them a more substantial, finished look).
This photo above is before our railings were installed (they look amazing, youll see soon!), and how our posts look now before they get wrapped. Note the pallet in the background acting as our gate. Lol.
Fingers crossed, knock on posts and gates, were on the home stretch here.
The gate and the porch posts are actually the last two projects we plan to complete in this long spree of outdoor projects this summer. Most of our projects have been on a small scale, like planting our veggie barrels!
These are the same barrels we have been using for the past few years (they are chemical-free for planting). I still envision a big garden in our backyard, but these barrels are so easy to plant! They tuck in quite nicely to this small space, too. Since we had so many other projects going on we decided to use them for another year rather than start another large project.
We planted a lot kale and lettuce (we got a late start so these plants were bought ready to plant, we didnt grow from seed). I love watching them grow and cant wait to eat em. We get a lot of our vegetables through a weekly delivery box from a local organic farm, but its still fun to grow some of our own.
Speaking of small gardens and growing, Lilys little fragrant garden has really filled out! This was from a couple of weeks ago.
We spent the last couple of weeks setting up the deck furniture, planting the garden and flower pots. We planted these miniature rose trees (bushes?) that we bought last year. This spring they sadly got totally destroyed by aphids. I cut them all back thinking Id have to wait until next year to see them flower. Well, they surprised me! They leafed out again and bloomed. The aphids came back, though, so I was going to go get ladybugs, but I tried some essential oils in a spray bottle first and it worked. Good-bye aphids! So far, so good.
As soon as I got all furniture set up, it rained so we had to put all the cushions and rugs inside again, ha! Yes, we live in Seattle so you just have to expect that rain might happen. I do bring cushions and some of the rugs all in if theres going to be a longer spell of rain, otherwise I dont worry about it and just let em get a little damp . We mostly have had fantastic weather, so I cant complain about rain too much this time of year.
I will definitely show you the furniture and flower pots when I take the photos, and of course I can show you the porch posts and the gate as soon as theyre in! I might even be able to show you some progress on that in the next week or so.
I know lots of you have been asking about how we stained our side patio concrete (you can actually see it in the white gate photo with Jack, above). Were just about done so Ill update you on that project, too.
And of course, as promised, well be hosting our virtual deck party for the big reveal! Im really looking forward to all of the yummy dishes yall offered to bring :). Ill announce the winners of the Simple Gatherings books this week so if you didnt enter yet, its not too late to enter by sharing what youre bringing to the virtual party (youll find the giveaway in the previous post about thedeck progress).
We cant wait to be able to just get outside and relax in our entire outdoor area, Im so ready to enjoy it all!
You can catch up on our deck and exterior projects here:
Painted Brick Exterior and Outdoor Projects
Designing and Shopping for our Deck Project
For my privacy notice and full disclosure of blog policies, advertising, copyright, sponsored links, and trademarks, please see myblog policy page!