Never miss the fun to customize your own Adidas shoes online! With mi adidas, you can now customize the latest Adidas shoes online at zero cost. It is awesome to design your own Adidas shoes online because you have an option to order your own custom Adidas shoes or boots if you are satisfied with the design. Adidas will build the custom shoes for you and deliver to your doorstep within 2 to 3 weeks. All you need to do is pack your innovation and creativity together and put it on the shoes you want. As mentioned, it is free to design and customize your own Adidas shoes but you have to make sure you do it nice. Follow the step by step tutorial here to start your own now when you are ready.
Step 1:In order to use mi adidas online program to customize a pair of Adidas shoes, you will first need to access the official website at this /us/content/miadidas/. This url allowed you to create your own Adidas shoes and place and order with them. They will deliver the shoes to anywhere in the US. For UK citizen, you will have to access this url to start your work .uk/customize. Adidas fans in Australia might have to go to this url miadidas.com.au/design.
Step 2: Pick a shoe style.Creating your own shoes is easy, fast, and fun. The first thing to do is to pick a shoe style you want from Adidas collection, for instance, lifestyle, soccer, running, basketball, tennis, football, baseball, and golf. Mi Springblade, mi AR 3.0, mi adizero ace 6, mi Forum Mid and mi D rose 4.5 are a few popular Adidas custom shoes. They are likeCustom Jordan shoeswhen the Jordan CP3.VII iD is mentioned.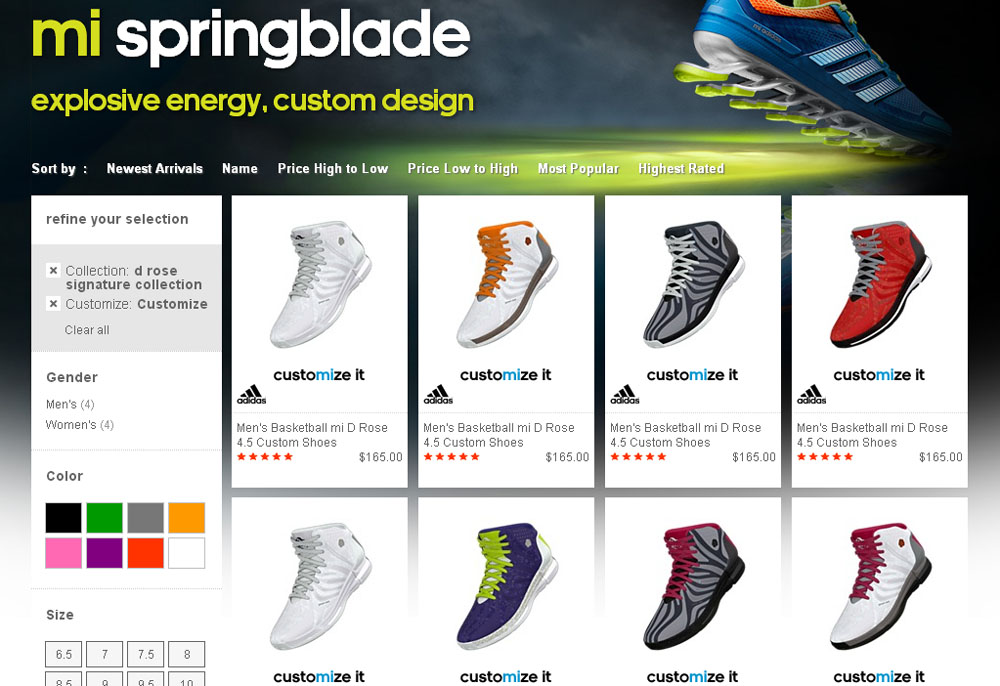 Step 3:Now you will see a sample Mi D Rose 4.5 in front of you. The fun begins here. You will need to select a material, add color and prints to each part of the shoes. Continue to design the shoes by adding colors to the base, tongue top, lining, laces, second pair of laces, sprintframe & midsole paint, stripes & eyelets, midsole, midsole print, as well as outsole. By default, you will get a running white for midsole but there is an option to put black.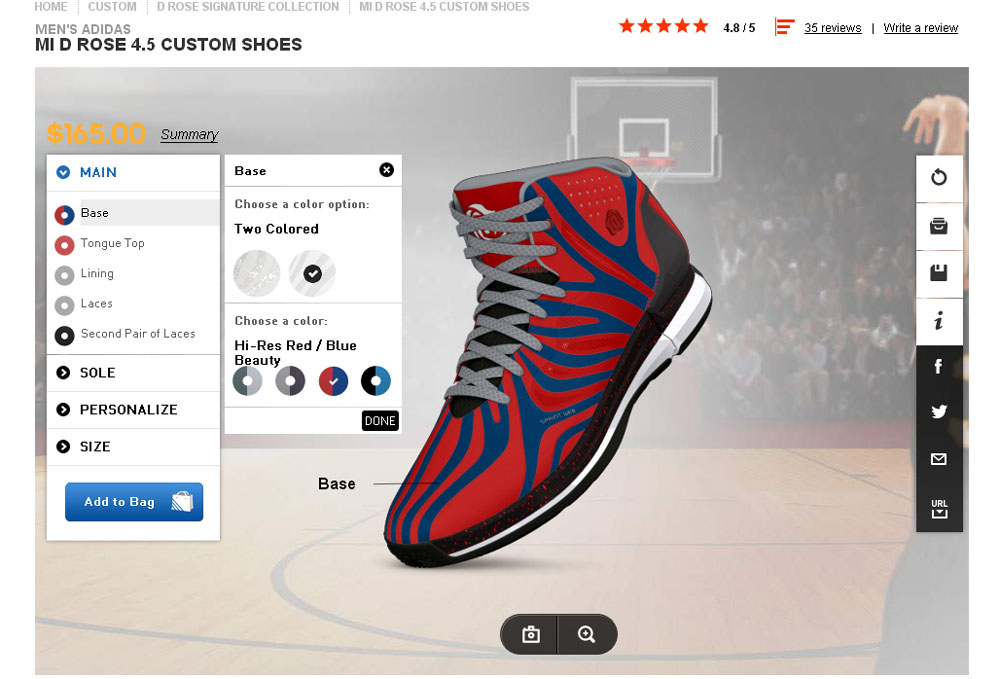 Step 4:Just like how youcreate your own Nike shoes, you can personalize the shoe with a name, a country flag, or a team logo. Lastly, view the shoe again and again with the zoom in function on the web. There is an option to buy your custom Adidas shoe by clicking the Add to Bag button. Remember to select the size and gender before placing your order. View the size guide to make sure you buy the right one.
Whether it is summer or winter, make sure you never miss the enjoyment to customize your own Adidas shoes online! The fun hasnt end yet, these will spark your interest too:design your own Conversecreate your own Vans sneakers.
Customize Your Own Adidas Shoes Online
Design Your Own Jordan Shoes Online
Create Your Own Valentine Card with Online Resources
Design Your Own Converse in 5 Steps
Create Your Own Pokemon Card with Pokemon Card Maker