Sewing projects, tips and inspiration for the modern seamstress and the sewing blog of Sewaholic Patterns
Finished Sewing ProjectsProjectsSew-AlongsTips
Hello, everyone! Today Im making a slip and Ill show you how. This is more of a Slip Experiment than a genuine tutorial though you can definitely follow along with the steps to make your own slip! Im going to experiment with some variations and make up a couple of slips, and see what we can learn from trial (and possibly error!)
Im planning to make three slips, using different trimmings, and hopefully improving with each one.
Todays slip is cream-coloured, with cream lace and cream elastic: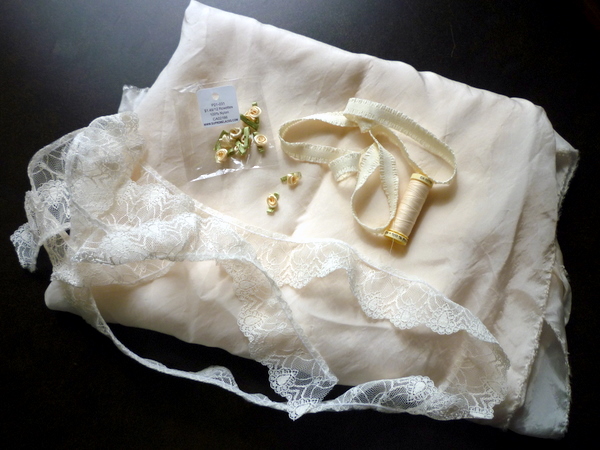 Feel free to get started on your own slip after todays post, or wait until Ive made all three so you can choose the techniques that work best and learn from my mistakes!
Slip fabric. I used rayon lining fabric we call it Bemberg lining here but I never see anyone call it that on sewing blogs, so maybe it has different names? Its the nicest-feeling lining and my personal favourite for all projects.
Elastic for waistline. I used elastic with decorative edges because it was a good match for the cream fabric and because I thought it would feel soft.
Lace for hemline trim. I used a pre-ruffled lace because it was the closest colour match. (I found plenty of white lace options but not a lot of cream lace.)
Pre-wash your slip fabric. For me the best part of the slip is that I can wash it separately, without having to wash the whole skirt! So I definitely pre-wash my slip fabric.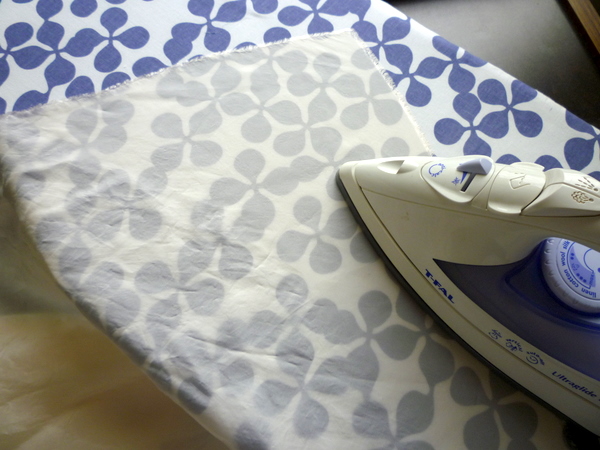 Iron out the wrinkles. I use steam and on the stubborn wrinkles, I spray them with water. It worked for me!
First, figure out how long you want your slip to be. Gerties tutorial suggests it should be 3 shorter than your skirt. One of my books recommends 1 shorter than your finished skirt. I think its completely up to you!
What I did was measure my finished Crescent Skirt: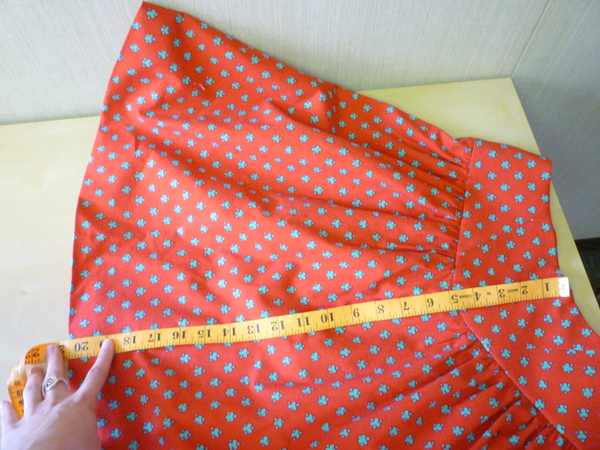 If you havent finished the skirt yet, use the finished measurements on the back of the envelope as a guide, or measure a skirt from your closet.
Then, I used a little math to calculate the length of my slip, and the width. So I made you a handy worksheet!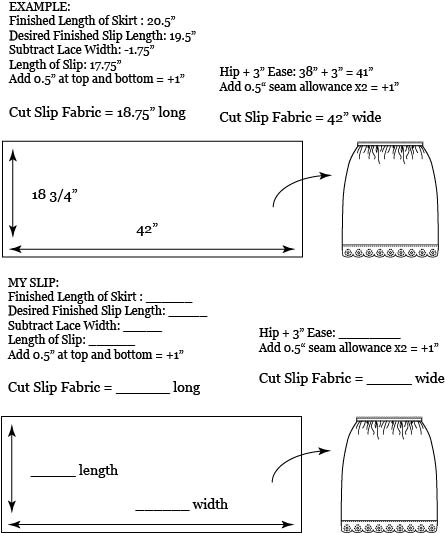 Right-click the image to save it to your computer, and print out a copy for your notes. Then fill in the measurements following my example above!
Because everyone will have different measurements, I thought this would be an easy way to follow along, that lets you customize your slip the way you want. Leave a comment if you have any questions!
Note:My lining is wide enough to cut my slip with one sideseam. If your lining is narrow, add an extra 1 (2.5cm) to the width measurement of your slip. Then, divide your width in half and cut two rectangles, measuring half the width and all of the height. (If we use my measurements above, wed have two rectangles 18 3/4 high and 22 wide.)
Once you have a rectangle of lining fabric, sew the sideseams. This is another great place to useFrench seams!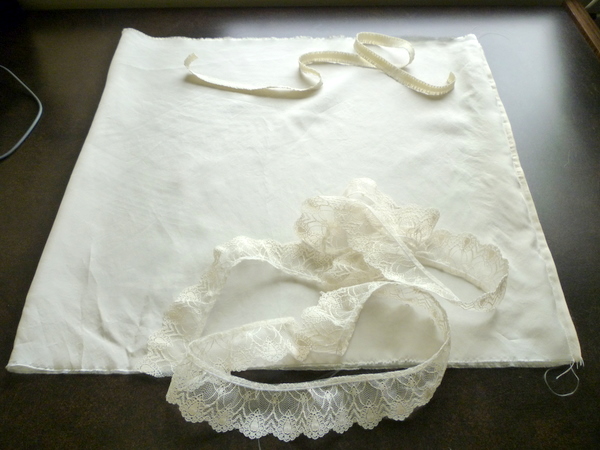 Now well add the elastic to the waist, and lace to the hem. Starting at the top edge, press under the 1/2 (1.2mm) seam allowance.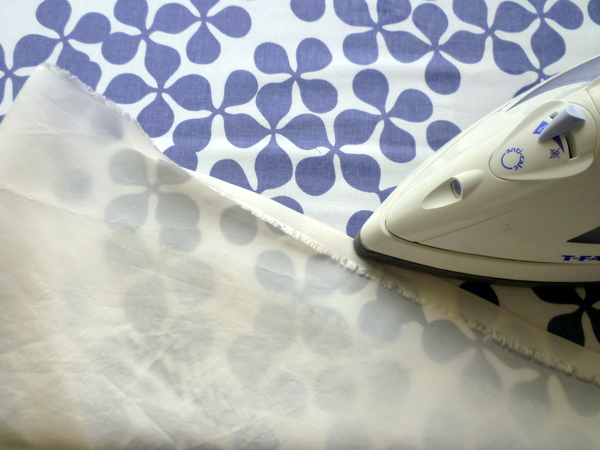 Now take your waist elastic, and measure around your waist snugly. Ill mention this again at the end but you will want it to be snug around your waistline, so pull the elastic tight without being too tight.
Overlap ends of elastic approximately 1 and trim off the excess. I like this overlap-and-zigzag method because its flatter than sewing a seam and having a seam allowance on the inside.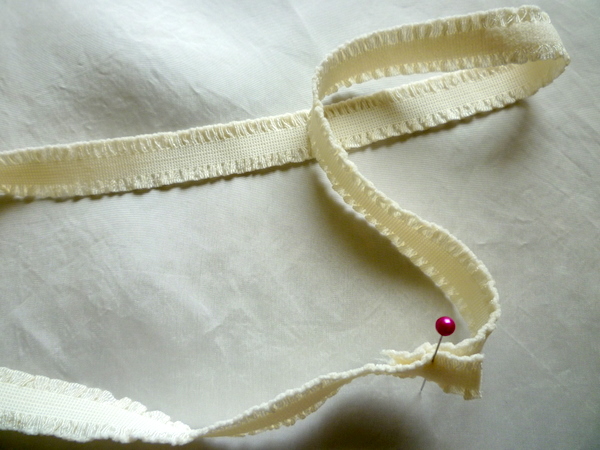 Zig-zag on top of the overlapped part, up and down a few times. Trim your extra threads like I didnt do before taking this photo!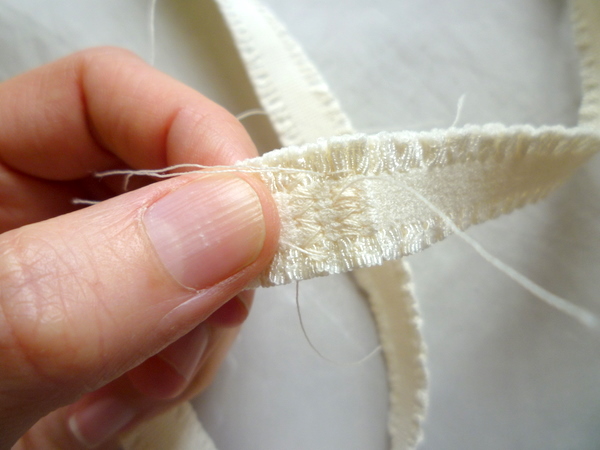 Divide your elastic loop in half, and half again, marking these points with pins. Youll have four pins dividing the elastic into quarters.
Do the same thing with the slip skirt. Mark halfway from your sideseam, and then divide these points in half again.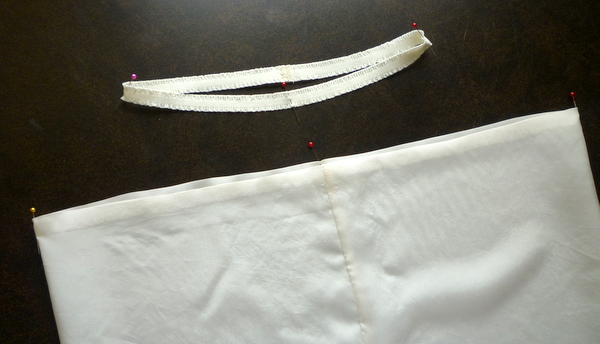 Pin the elastic to the folded edge, matching the pins on the elastic to the pins on the skirt.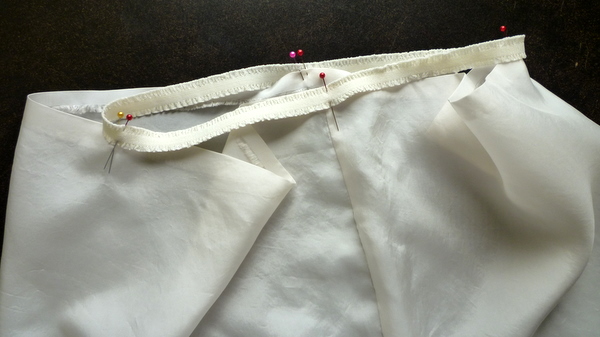 With a zig-zag stitch, sew the elastic to the slip without stretching, for a few stitches only. I lined up the folded top edge of the slip skirt with the un-crinkled part of the elastic.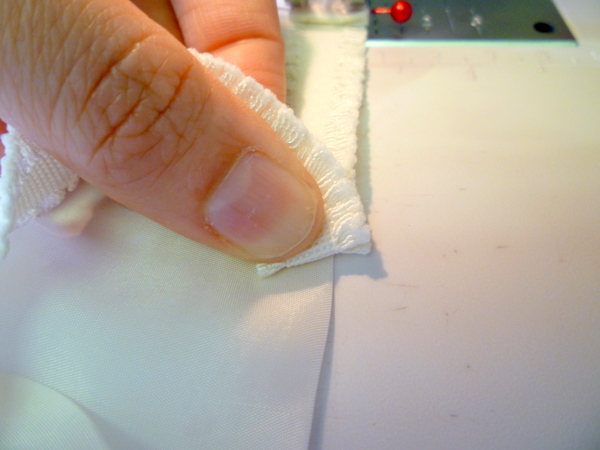 Now that the elastic has been secured to the slip, its time to stretch the elastic! On mine, because my hips are so much bigger than my waist, my elastic is stretched as far as it possibly can. Yours might not be as strained, but its OK if it is! It will shrink back into place after were done.
Heres what it looks like, stretched: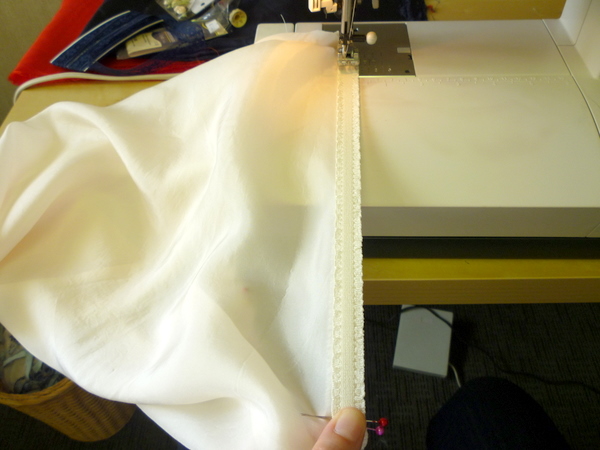 You will always want to keep your needle stuck in your elastic if you lift the presser foot, or it will spring out of place. Thats how mine is staying in place to take the photo!
When you sew, sew with one hand behind your work, stretching the elastic, and one hand in front, also stretching the e lots of pins to keep the elastic from shifting. When you get back to the starting point, overlap your zigzag stitches about 1/2 (1.2cm) over the starting stitches.
Heres what your waistline will look like. Steam it to shrink the elastic back into place!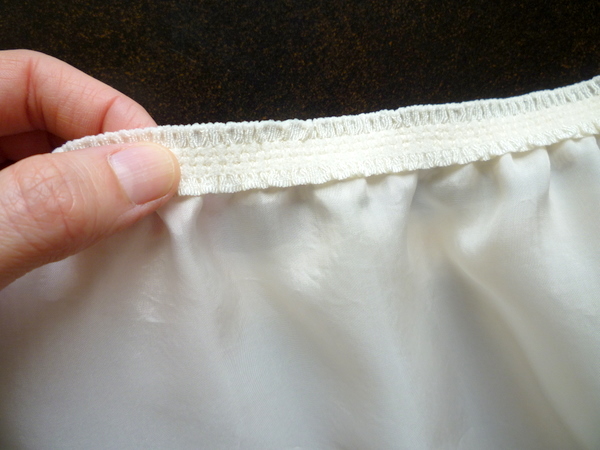 Next, I wanted to sew a rosette to centre front, as a pretty detail, and so its easy to tell the front and back apart.
On a side note, I used to pick things like this off my underwear and clothes as a kid. I hated the little bows, flowers or appliques on panties and bras. I remember particularly hating a tennis-racquet applique on a training bra. How ironic that I like things like this now!
And go figure, the rosette fell apart on me!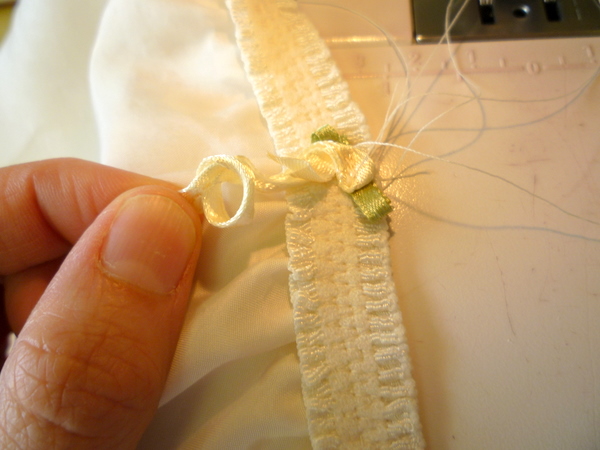 So I stitched right through the middle, squashing it down. Its a little flatter than before but still looks cute and makes it easy to tell the front and back apart!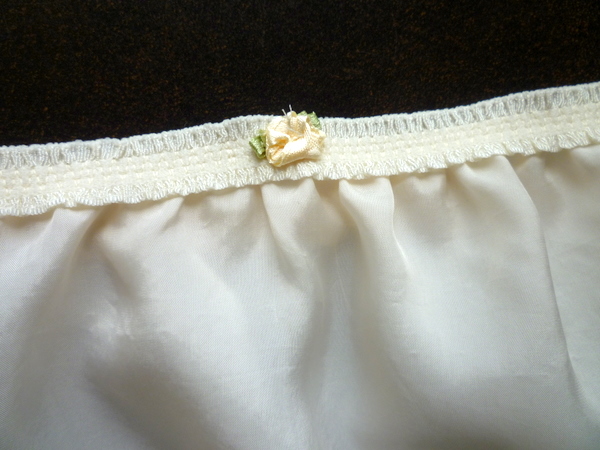 Next, lets add lace to the hemline! I wanted to hem my slip first so the raw edge was hidden. I pressed up the 1/2 (1.2mm) hem allowance, and then turned in the raw edge forming a 1/4 (6mm) unstitched hemline.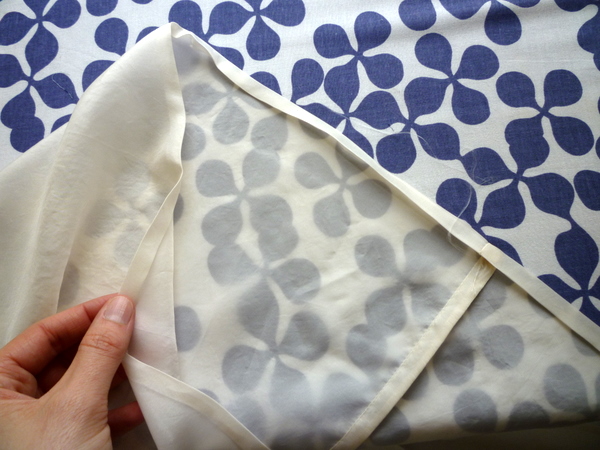 Then, I pinned the lace on top of this folded edge: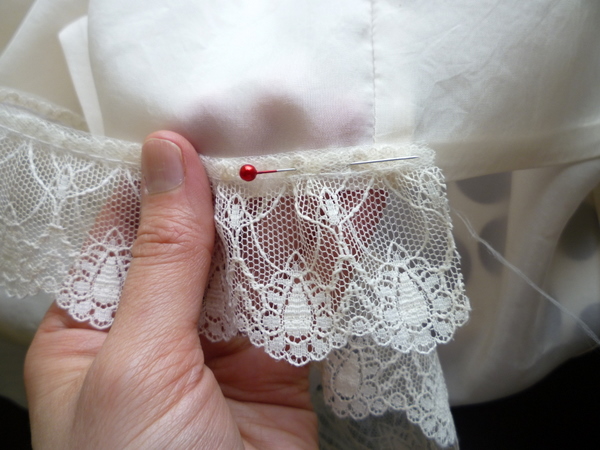 I stitched the lace on with a zigzag stitch, overlapping the stitching when I got back to the start point.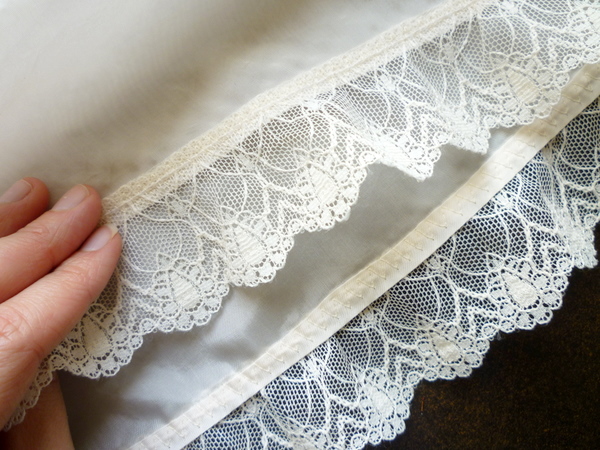 Heres the finished slip. Rayon lining is super sheer! I cant model this one for you guys, its too revealing.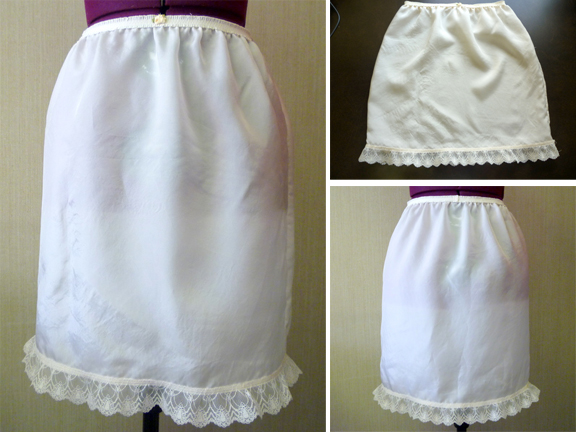 If youre curvy on the bottom, you may want more than 3 of ease around the hips. Then again, I tried it on under my Crescent Skirt and its pretty comfortable!
It does restrict your movement a little, especially if you like the freedom of a full skirt.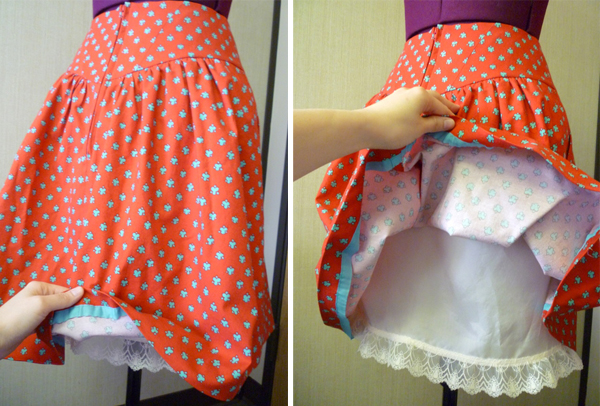 Things I like about Slip Version 1:
Its soooo pretty! The more I look at it, the more I like it.
It feels incredibly lady-like to own a slip like this. It was fairly simple to make and Im envisioning a rainbow row of tights hanging in my wardrobe so glamorous! (Although then I would own more slips than actual skirts..)
The lace is super cute if it sticks out of the skirt when you walk, or twirl, orride a bike!
The ruffled-edge lace wont lie flat under slimmer skirts, and might catch and snag tights. Id look for flatter, equally pretty lace options. (Of course that all depends on whether you want it to be cute and pretty, or smooth and functional.)
Rosette is good to identify front and back! But may be lumpy. Alternatively, you could sew a small bow to the front. Or a flatter rosette or applique.
Elastic at waistline is a little too loose. Next time Ill pull it tighter than I think or measure this one and snug it in a little!
To give you an idea, my slip waistline measures 24 and my actual waist is 26 and its still quite loose! Its comfortable, so Ill wear it and see how it holds up during the day.
Id sew on the elastic to the waistline so the elastic is against the skin, not on the outside. I have a feeling the elastic would have been softer than the lining edges, now that its finished.
What do you think? Have you made a slip? What were some of the things you liked and didnt like about yours?
What would you have done differently, and what would you suggest for people who are making their first slip? Comments, opinions, suggestions are welcome!
Im Tasia St. Germaine, and Im the founder of Sewaholic Patterns. I began blogging as a creative outlet back in 2010, and started Sewaholic Patterns shortly after. I write about sewing projects, post tutorials and sewing tips, and share what its like behind the scenes of a growing sewing pattern company. I love cycling and commute to the studio by bike most days. When Im not sewing, I enjoy knitting and love making cosy sweaters for our rainy Vancouver weather.
Never miss a thing! Get blog updates by email.
Subscribe to our e-mail newsletter to receive updates.
elasticelastic waistgingerlacelingerieliningrayonrosettesliptutorials
Love the worksheet! The math part always seems to be the most time consuming and stressful bit of doing this type of project. Im always terrified that I measured or calculated something wrong! Cant wait to see your other slips!
I have yet to make a slip, but between you and Gertie I think Im ready to take the plunge.but maybe in a light cotton? I just think maybe that would breathe better in summer. Plus, Im a natural fabric junkie.I feel like this would be a great way to convert an old or thrifted nightgown into an everyday undergarment. Maybe that is what I shall try.
Thank you very much for this tutorial which is something Ive been looking for. Your tutorials are always so detailed and helpful.
When Im making a slip, after a similar problem with too big elastic, I tend to measure the length I think is right for the elastic, and then tie it round my waist at that length and move about about wearing it for 10 min or so to see if it is too big or too small (ideally whilst wearing the skirt in question to check that it doesnt ride up above the skirts waistline). And definitely remember to steam it when you are done to make the elastic stretch back, I always forget that step!
Just a thought here- a recent Wall street Journal (!) item about slips suggested that 3 shorter than the skirt might be better so when you sit down or take long strides the slip doesnt peep out. Some may want their slip to peep out! As for me, I confess I stopped wearing slips a long time ago (too hot and fussy) and was so glad when pantyhose stopped being de rigeur as well. Makes it easier to dress.
Thanks for the demo. I am definitely a slip girl & always have been. My favorite is a style I can rarely find any more the slip shorts. I cant remember when I began to wear them but I would never go back to a conventional slip.
Basically its a slip but made with legs, thus the shorts. Ive bought them at Sears &Kohls. I prefer the shorter length (20).
Perhaps you could make a variation on the original slip to include a shorts option.
PS I hope the link works. Sorry if not. You can find one at .
The slip shorts you refer to in your reply are called pettipants . They were big in the 60s.
I have made a few slips and think that most skirts hang better with a slip and conceal the body outline. (that unsightly cling to upper thighs and/or crotch crawl) I have used every fabric known to man. A quality polyester works well, silk is amazing and batiste is a good choice. I like to bias cut slips. While this requires a little more fabric, the fit and drape is very good. One of my favorites was a pale peach batiste, bias cut, with scallop hem made on my machine. Simple and clean lines work very well for slimmer skirts and for summer. Now that slip has gone to its reward I think it is time to replace it. I follow the 4 inch rule with lingerie elastic, measure waist, subtract 4 inches. Now remember all elastic is different so a test-wear is a good idea, but it usually works for me. An inexpensive dress up for simple slips can be accomplished by fussy-cutting some lace motifs from yardage and attaching in a tiny zig-zag. By adding the motif (s) at the front of the slip, perhaps near the hem, you amp up the pretty factor and spend little $. I could go on and on, but I hope you get the idea.
You can un-ruffle the lace if you want it to be flat, next time. 🙂 Just unstitch the top where it is gathered. If the top edge is unfinished, you can just put it behind the hem instead of on top. Thanks for the tutorial!
Very nice, I have always wondered about elastic waistbands. I made a skirt with a elastic band and it felt too full around my middle, pulling up too much fabric, looked like I gained 20 pounds! I must have done something wrong, anyway, love your pretty slip. I would love it in a cotton.
I dont think Ive worn a slip since I was a kid. But I do like the idea that its kind of like a removable lining. Seems like it would be so hot for summer, thoughor maybe rayon breathes better than the polyester slips I remember wearing back in the day.
Gina, frequently elastic waists are not at all flattering (i never wear them),. particularly if you have larger hips so there is more material bunching round the waist, (try tapering the shape towards the waist if you think that will be a problem). with really light lining fabric though this isnt such a problem, as the fabric squashes fairly flat even when gathered up.
If your slip material is stretchy (not Bemberg), you could finish the bottom with a folded band of the same material only at 95% of the length. (Kind of like Jalies method for finishing the neckline of a knit top only wider and a little looser.) This is a very smooth finish and just pulls the bottom edge in ever so slightly.
For a smooth finish with Bemberg, you could also try that trick Threads published a while ago to add rows of stitching into the hem allowance to add weight to the hem.
Rayon breathes. Its man-made, but from plant fiber. It is NOTHING like the polyester slips available in most department stores.
Cutting on the bias is a very good idea, Corinne!
Do you have plans to sew a full length slip?
Personally, I tried Gerties minus 3 inches for the length of the slip, but it still peeked out from under my skirt, so I cut off a little more. I think it might have something to do with the elastic, though, I might have cut it too big too.
I was wondering the same thing as Lipstick Jane. Can you make a pair of slip/shorts? I live where its really windy, and skirts tend to fly up at the worst moments. Shorts would probably solve that problem 🙂
I love your blog. Ive been reading for a couple months now, and I just cant get enough. Im in the process of losing weight, and I have a TON of sewing projects planned when I drop just one more size. I love that I can come back here and find all the helpful information I need when I need it!
I recently made a slip and used an old silk scarf. I had a lovely scarf that I just didnt wear, so I cut it up and made a slip. The slip is so soft and it is fun to wear it under skirts that cant be seen through. I used some of Gerties tutorial and also cut it to make the best of the design. I, too, made the waiste too big. I was so afraid if it being too tight that I made it too loose!
It is great fun to wear my new slip.
How about adding a side slit to slip 2? My favorite slip has one, and it solves the mobility problem! Otherwise, its very cute. Identifying the front doesnt seem like an issue there is no front, right? I never worry about it on my slips.
Lovely slip Tasia! I made a slip from Gerties tutorial in 100% rayon as well! I think Ive seen it called Bemberg lining on some sewing blogs, I guess only when it specifically has the Bemberg stamped on the selvedge. Can I ask, because I dont think I saw it mentioned how you prewashed your Bemberg? I handwash mine because Im not sure if I can machine wash it!
Also as a response to commenter Erin, I think a great slip/shorts pattern is the free tap pants from . I made that from this same rayon, and I love wearing it under fuller skirted dresses/skirts in summer! Perhaps, if anyone is looking for a slip alternative to try, they can check that free pattern?
So charming! Ive been loving the way the Crescent skirts have been looking, btw. Wouldnt flatter my body, but it looks stunning on other women 🙂
I made one last summer and it turned out okay. I made a tube for the elastic and then somehow twisted it as I was putting it in, so the waist is extra lumpy. I do still wear it, since its my only cream colored slip. Yours looks lovely, like usual!
Its adorable. I love slips. Not sure what it is, but wearing them make me feel extra feminine somehow. This one is lovely. I really like the details you added!
This was one of my first sewing projects. The instructions werent too clear, and so I gathered on 3 times the fabric width lace onto the bottom, instead of 1/3. Sure boinged out well :-).
But, ahem, a slip is a full-length garment reaching over the top half of your body. This is either a half slip, or a petticoat, your choice of terminology according to period or geography.
@Sarah: the bias cut also reduces the waistline bunch-up
By the way, the shorts-slip is a great idea and keeps coming back, fashion wise. History displayed them as bloomers, in the 60s they were called Petti-pants. In the early 90s they showed up again in a JC Penneys catalog. Easy to make from any loose pant pattern with an elastic waist.
Very cute slip, thanks for the tutorial! 🙂
One of the best tips I ever read online (I think it was probably on patternreview) is that when trying to measure elastic for your waist for anything from a slip to pj bottoms is to pull the elastic as tightly as possible over your largest lower measurement, whether that be hips, thighs or butt and then use that. This means that the garment will definitely fit over your biggest bits and will also fit your waist (presuming your waist is smaller).
@ Marie-Christine according to my geography (southern England) the garment Tasia has made is a slip or a petticoat, but definitely not a half-slip, because the word half-slip doesnt appear to exist in my lifetime or location 🙂 However, a full-slip does exist, which is the garment you refer to that covers the upper body as well, but that doesnt make the skirt slip a half-slip, just a slip. Now the word slip has started looking weird when I type it!
Having found your blog via Sunnis a fashionable stitch, Im really interested in having a go at your slip. Im about to make up a Ginger using a thinner material and it will need a slip!
However, the worksheet isnt showing up? Can you help please?
Hi Tasia, thanks so much for the tutorial. I dont think I would have had the nerve to make up the slip without your great instructions. I made a long slip to wear under maxis so I needed more walking room. I made an eight inch slit on the right side and outlined it with flat lace. I also did the elastic a little differently. I sewed it on the outside and then turned it over and sewed again with a zigzag stitch. Turned out smooth and soft. I used a bemberg rayon in dove grey and I think it is beautiful!
[] Slip Tutorial: Version 1 and Version 2 (so []
[] of the sleeves. As I knew the costume would be worn with tights I also made an underskirt. I used Tasias wonderful tutorial reducing the ease slightly as this is for a 7 year old. I added the same leaf []
[] Since the skirt isnt lined, I made a slip. (Tutorials here and here.) []
[] length and color. I decided to look for some DIY ideas and came across Sewaholic blog by Tasia for version 1and version 2. I would choose cotton fabric of []
Subscribe to our e-mail newsletter to receive updates.
Karen: Hi Lili, I love these posts that show different…
Jayne Reed: My mats a little thick, too, and I ended up trim…
Jayne Reed: Im an older lady who made this in the senior cen…
Lena: I think its hard to find a good fabric here in Swe…
Sue @ A Colourful Canvas: Hey…thanks for the mention Lili! This post real…