PROVIDING PRECISION PRODUCTS SINCE 1969
Gauges to ensure your product meets the design requirements with adherence to print specifications. We supply variable data and attribute gauges to quickly and easily measure parts without a CMM.
Any machine component whether its a block, shaft, gear, etc. We can produce your special part out of any material you require using our wide array of equipment.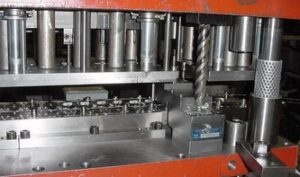 We entirely manufacture metal forming dies including fineblanking, progressing, compound, pierce, and draw dies. We also offer a short run production stamping service.
Were a family-owned company located in Dayton, Ohio whos been manufacturing close tolerance goods since 1969. Theres little to no job that we cant complete given our equipment capabilities. From concept to delivery, just about the only value-added work we outsource is heat and surface treatments. We fully design and manufacture gauges, details, dies, prototypes, special machines, and fixtures. We have toolmakers, machinists, inspectors, and engineers who all work in unison to produce a tight-tolerance product in a timely manner. If youve been told that a gauge cant be designed and built for your complex part and/or GD&T callout, give us a shot and we will do our best to arrive at a solution that fits your needs.
Were a multi-generational company who prides ourselves in supplying custom manufactured goods with paramount consideration to quality and precision. With nearly 50 years of experience in the tool and die industry we have established ourselves as a leader in the Dayton area.
We pledge to deliver a quality product at a competitive price with a quick lead time. We are always open to new challenges. If you have been unable to find a company to manufacture your product or meet your design tolerances, give us a try. We strive to ensure that your requirements are fully realized.
To sustain our long-standing relationships and provide abundant value to our customers, we will continue to improve and reinvent ourselves. In 2011 we purchased a 5,000 square ft. building to house our CNC equipment. Weve also made the leap into gauge automation.
We have over 20 high skilled and impassioned toolmakers and machinists at our company. Most of them have remained at Sure Tool & Manufacturing for the bulk of their careers. They have grown to call this place their second home and everyone is regarded as family. Every single employee plays an integral role in Sure Tools success. Weve even collaborate with Sinclair Colleges Step II program and regularly employ interns. This ensures that the breadth of knowledge does not leave the company when our employees retire. Being family owned, you can be rest assured that we are here to do whats best for our customers, not investors.
An ambitious man who saw the need for a top-tier tool and die supplier in the Dayton area. Jerry served in the Navy and incorporated the discipline into his manufacturing career. Jerry started Sure Tool from the ground up. When he first started he convinced businesses in the Dayton area to give his new company an opportunity. He would then go back to his shop and manufacture the product himself as well as deliver it. He was an expert craftsman and could build anything given the right tools. Jerry enjoyed designing and manufacturing progressive stamping dies the most. He enjoys participating in the weekly football pools and loves watching Judge Judy. He still participates in the operations today.
An Ohio University alumnus, Rusty graduated as an Industrial and Systems Engineer. His breadth of experience as an engineer at companies like, Lockheed Martin, Cummins, and Martin Marietta prepared him to take over the business. Rusty spearheaded the implementation of numerous company improvements including in-house design, Wire EDMs, and precision gauging. He also expanded their customer base and ensured that Sure Tool remained afloat during the dreadful 2008 closing of General Motors. Rusty is open to his customers in the same way he is to his family and friends. He makes it a point to establish a strong form of trust with everyone he does business with. Rusty is a season ticket holder for the Cincinnati Reds and Dayton Dragons. In fact, Jerry purchased season tickets in 1970 and have remained in the family since.
Ron began his toolmaker apprentice program at the age of 17 and has remained at Sure Tool & Manufacturing since 1998. His persistence and eagerness to learn new things has empowered him to become the superintendent at Sure Tool & Manufacturing. Hes the go-to guy for any questions related to tool and die. Its hard to find a machine that he doesnt know how to operate. His keen eye for detail ensures that a high-quality product is always shipped out of our doors. He is well versed on the history of manufacturing. Ron is also an avid gun collector whos even made his own gun parts.
Ray graduated with a Bachelors and Masters degree in Mechanical Engineering at Ohio University. It must run in the family because Ray has always been interested in manufacturing ever since he was a kid. He would build KNex structures taller than himself and fix numerous things around the house. His favorite show is How Its Made. As an Advanced Manufacturing Engineer at Emerson, he experienced first-hand the challenges faced with producing a quality product and understands the need for precision gauging. Ray plans to take over Sure Tool & Manufacturing someday.
Most of our customers looking for measuring devices find that attribute gauges fit their criteria. Attribute gauges are very quick and easy to use. Perhaps you want to check and ensure that a hole on an angled bracket falls within a true position callout. We can design and build a gauge that does just that with a clear good or bad (pass or fail) part detection. Any operator can learn how to use our robust attribute gauges within seconds.
To have better process control, manufacturing companies are now gravitating towards variable data gauges. They can see if the mean dimensional value is starting to steer towards an upper or lower control limit and make a correction to get the value close to nominal again. Data is key to producing a quality product and we can ensure you have the data you need. All our variable gauges are tested using a gauge R&R (repeatability and reproducibility) test which allows us the quantify the error in our gauges and make an improvement if needed.
Perhaps you need a gauge to 100% inspect your parts with the necessity being speed. We have built numerous automated gauges that quickly take measurements and display/log data. We specialize in automatic sorting gauges, where the machine can mark parts according to the tolerance zone they fall in. Weve used both Allen Bradley and Siemens PLCs to control our gauges.
Whether its a gear, axle, spline, or any other form of mechanical components comprising a larger assembly, we can build it. Weve worked with a slew of different types of materials. Weve even machined a part out of gold that went on the International Space Station.
Our specialty is fineblanking dies, which are used to achieve a high degree of flatness and dimensional accuracy. We also make progressive, compound, pierce dies, and draw dies. We offer emergency die repair with a quick turnaround time to minimize the impact to production. We fix dies that have been improperly manufactured (usually from China), as well as perform die maintenance. We also offer short run production stampings.
Work-holding fixtures and jigs are also within our product line. Examples of some of the fixtures weve built include welding, CMM, milling, and drilling fixtures. We also build fixtures for part assembly and assemble the parts at our facility. Weve also created automated fixtures for production and measurement.
Having the engineering, programming, machining, and inspection in-house allows us to stay cost-competitive and provide quick turnarounds. If we do not have the equipment capabilities to perform a specific manufacturing operation, we will use our trusted local suppliers to help get the job done. Below are some of the engineering solutions that we provide. We have two engineers at our company. Hover over each section below to freeze auto scrolling.
If the need arises to automate your gauging process then we are here to help. Examples include part sorting based on tolerance zone, variable data acquisition, and simple pass/fail checks. We fully design and wire electrical panels, as well as integrate pneumatics. We have vast experience using Siemens and Allen Bradley PLCs and interfacing them with various measurement techniques. We typically use digital LVDTs or linear encoders for precise measurements and data recording. Weve also setup laser profiler vision systems for feature measurement.
Utilizing SolidWorks, AutoCAD, and DraftSight, we are able to manipulate any type of CAD file, as well as design in whichever space you require. We have transitioned to designing most of the complex assemblies using 3D CAD. This helps to prevent costly mistakes, employ quicker design iterations, and provide a true representation of what the final product will be. We always prefer to get the customers input and approval before ever throwing a chip. We adhere to all customer specific formatting, whether its a certain file type, angle projection, dimensioning style, title block, unit system, etc. If necessary, will supply a concept model of the project with the quote.
We use computer aided manufacturing to efficiently program our CNC machines. We utilize Mastercam (newest version), Esprit, and conversational programming. Our milling machines are equipped with ProtoTRAK controls that allow us to machine complex contours with just a CAD file.
Weve designed machines that apply forces exerted by hydraulics, pneumatics, or human power (in the form of a screw, gear, etc.), and measured critical dimensions of a parts in their functional state. Rest assured, we have a mechanical engineer who can properly design these systems.
We are able to reverse engineer most components. Perhaps you no longer have the print and need to make a part thats broken. Just send us the part and we can make a new replacement part and provide a print with dimensions.
Our Mitsubishi wire-cut electronic discharge machines are a necessity for the type of dies and gauges we produce. We can produce complex contours with a very small radius while maintaining high accuracy and smooth surface finishes. Any material that is electrically conductive can be cut on our machines, such as steel, aluminum, graphite, carbide, copper, etc. They are 5-axis machines which allow for a different profile to be cut on the top and bottom of a part.
This orbiting die sinker is built for high accuracy machining. It comprises a rigid heavy duty Meehanite casting frame with premium grade ultra-fine Class 5 ball screws, as well as a high resolution 0.0002 (0.005 mm) linear optical scale. Our sinker also contains an Orbit cut system which essentially enables full 3D operations and attains a mirror surface finish with high accuracy. We can also burn threads in hardened material.
We perform turning operations at our facility with 3 CNC and 2 manual lathes. We have mill-turn capabilities for ultimate multitasking (turning with milling, drilling, and tapping).
We have a slew of vertical milling machines including Bridgeport, Clausing Kondia, Seiki, Top-One, and Cincinnati. Most of our mills are equipped with 2-axis ProtoTRAK or Acu-Rite X and Y axis CNC controls. We can machine complex surfaces for 3D parts using our fully CNC controlled 3-axis mill.
Jig grinders enable us to grind complex holes and features while achieving close tolerances and smooth surface finishes. Jig grinders are an absolute necessity for close tolerance true position callouts on holes.
Our OD (outside diameter) grinder is used to achieve diameters closely held to tenths (micrometers) tolerance. Brown & Sharpe pioneered the cylindrical grinder and the brand is still revered today in the grinding world. This OD grinder is a necessity for our precision attribute gauge pins.
We have both hand and automatic feed horizontal-spindle grinders. Our grinders are extremely reliable. We can achieve a final tolerance in the hundred thousandths (0.00001) decimal place with mirror surface finishes.
We inspect all our critical tight-tolerance features in-house accompanied by a certified inspection report. Our RS-30 DCC CMM is equipped with a Renishaw PH10MQ indexing probe head with remote control for X Y Z axis jog. The table contains numerous drilled and tapped mounting holes. Our CMMs are fully calibrated at least once every 2000 hours. The calibration involves cleaning scales, bearings, and reader heads. The reader heads, repeatability of the probe, and beam/plate parallelism and perpendicularity are all inspected and corrected if need be. A full volumetric ball bar test is also performed to guarantee the machines accuracy. We always record temperature and humidity during the time of the inspection and log it on our inspection sheets.
If this is a request for quote please upload your part drawing(s) and provide details (quantity, due date, material, etc.)
Upload files (Hold Ctrl or Shift to select multiple files) – 50 MB Limit
©2018 Sure Tool & Manufacturing, Inc. All rights reserved.
429 Winston Ave. Dayton, OH 45403 USA