Vistaprint is known for business cards. I bought my business cards from them myself. But even though they are a printing company, can you really blame them for getting into the website game? They have thousands of small business owners on their website every day buying print materials and many of these small business owners need a website too.
Vistaprint gladly charges these customers monthly and gives them access to their cookie cutter website builder. So is it any good? I take a look in a full video walkthrough below.
As if adding on a website to your business card order isnt enough already, Vistaprint tries to add on more monthly services during the signup process. Some of the upsells they throw at you are a Facebook Page Builder, Search Engine Optimizer, Site Activity Reports, and a few other things. These might be nice features but non of them are likely worth the price youll pay. In my opinion, Vistaprint is taking advantage of their clientele that is uneducated in the area of websites to sell them services that have little value.
Make sure you understand what youre getting before buying any of the Vistaprint add-ons.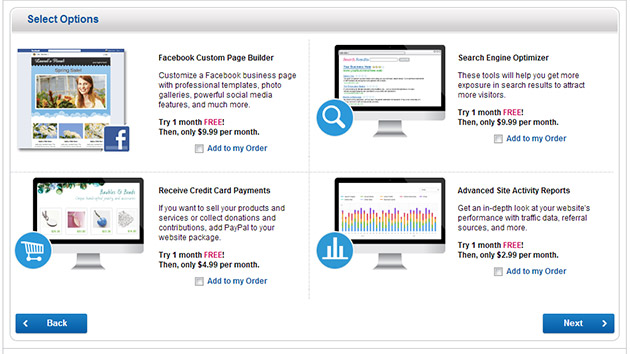 Vistaprint gives you a free 1 month trial to test out their service, but you have to choose your package up front. Currently their lowest plan is the $4.99 Basic package. The main limitation of the Basic package is that youll have to use asubdomain like.
If you want to use your own domain name, youll have to upgrade to the Standard plan at $14.99 or the Premium at $24.99.
By the way, I wouldnt recommend purchasing your domain name from Vistaprint. They havea poor domain name policythat can cost you more than a few dollars if you ever want to move your domain from Vistaprint.
The main difference between higher plans (Standard and Premium) is that the Premium version includes a shopping cart, unlimited email addresses, and a few other add-ons. All the plans include unlimited pages on your website so youll never run into page limitations.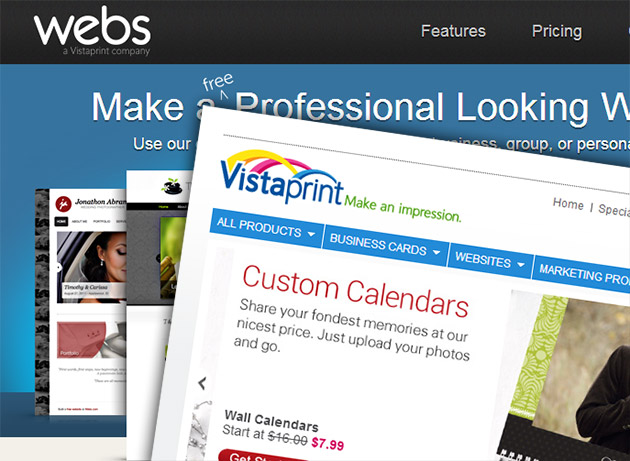 Vistaprint has obviously recognized the shortcomings in their website builder technology and thats likely one of the reasons theypurchased 2011. I hadnt reviewed the Vistaprint website builder before this time but I could tell by the live Vistaprint websites on the web that their website builder was nothing special. Assimilating the m technology has made a big difference and greatly improved their website service. My video above shows the current website builder offered by Vistaprint with the new technology they acquired in purchasing Webs.com.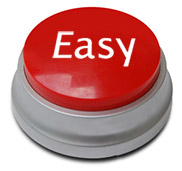 One nice feature that I forgot to highlight in my video review is the Simple Setup Option. This is a time-saving feature for people who dont want to take the time to use the website builder provided by Vistaprint.
Basically, the Simple Setup asks you for your address, phone number, basic overview of your business, and a few other options. It takes this information and populates it into a website design that you choose. I wasnt able to test it to see how well it worked but its a unique feature not offered by many other website builders.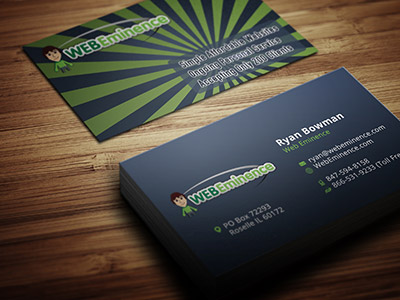 So Vistaprint is obviously a shoe-in if you need business cards. I bought business cards from them and they are fast, affordable, and easy. Are they the answer for your website needs though? Ive reviewed many options and I dont think they are thebest option for a website builder.Vistaprint greatly improved their product by acquiring the technology, but they are still lagging behind the competition in the overall value and the features of the website builder itself.
In my opinion, installing WordPress and a relevant theme to your business will be much better. Its not hard to do these days and there are lots of tutorials around the web. Another plus going with WordPress is that in the long term it will be cheaper to run too.
Agreed. You can get a lot more flexibility in design and functionality with WordPress. Its definitely a bit more complex than a drag and drop website builder but I know there are some drag and drop WordPress themes out there too.
There surely are those drag and drop WordPress themes in the market but the license is quite costly. Another way is to use framework themes. It would take some time to really make something nice out of it as individuals need to delve into the codes but if they are confident and brave, go for it I say. Obtaining new IT skills and knowledge in this age can surely bring them and their business a long way forward.
I think this could honestly be said about most site-builders, unfortunately most people not in the industry dont seem to be that aware of WordPress. If were talking long term value for best returns people could be even better off hiring a freelance web developer and then simply utilising a barebones hosting service (mine costs circa 6 per YEAR with a free domain), yes it may mean a higher up front cost (though there are plenty of freelancers out there willing to work for not a lot) but you could often re-coup that in a year or 2 of business.
Man something about the Vistaprint website builder really brings out the WP fanboys. I love WordPress too and use it for my sites and client sites. But I cant honestly say its easier to use than the really good website builders. Website builders will cost more in the long run, but they make it easier for beginners to create sites.
One other train of thought is that small business owners can choose an easy to use, functional, decent looking website from VistaPrint, have their site up in a weekend, and get back to the business of building their business! I love to learn new technology, but as a busy owner of 2 businesses (mine and hubbys), have dropped the most recent attempt to switch over to WordPro. We have a Joomla based site and a VP site.. both meet the needs of its particular business. So while it may leave something to be desired from a web designer perspective, I think it is definitely filling a niche in the small business owner needs small-ish, professional looking, functional website.
No doubt about it. The Vistaprint website builder definitely fills a need in the industry and thats why Im sure they have millions of customers. It provides a decent website builder at an affordable price.
It doesnt show up on many top 5 lists for the top website builders though. Many people who started with Vistaprint have no problem sticking around but if they were to investigate all the website builder options out there, theyd probably find some better values.
Glad to hear from a happy Vistaprint customer.
Ive used VistaPrint for years for my small home based business. It generates multiple leads every week for me which is plenty enough because Im a one woman show. Vista may not be to the liking of an advanced web designer, but the best part about it was the EASY creation by someone like me who knows little about webpage design. I was able to easily upload pictures, insert links and add a blog page. It was actually a lot of fun to design and I felt pretty smug about having done it. (Heh.) I get tons of compliments on how cool it is too. Maybe I missed my career calling? (Just kidden!) I do pay $24.99 a month for it, but its worth the partial tax write off through my business expenses.
Thanks for sharing your positive experience. There are definitely many satisfied customers using the Vistaprint website builder so its good to hear from them once in a while. I did find the Vistaprint web builder pretty easy to use as I say in the video.
I have used VistaPrint for a few months for my start-up business. Their printing aspect of the business is great! I signed up for the website aspect of the business, and designed my website which took me over a week to do. I was doing some editing on my website and clicked on the wrong button, so I lost all of my work, and my dashboard now wants me to redesign my website from scratch. I informed them of this issue, and they are the ones hosting my website, so it is obviously in their system. I asked if they could access my live website and send it back to my website design dashboard on my account, and they said that I couldnt. They want me to redesign my website from scratch, so yeah, I am most definitely not impressed, being a paying customer, and they cant help me with this. The agent that I was talking to suggested that I use their website designing team to help me to rewrite my website, so in other words, if you pay us money to help well get your live website restored. Im most definitely not impressed with VistaPrints website hosting.
Thanks for that contribution. Its important for people to know. Backing up your website is important on any platform so you dont lose all your work and your entire site! Most website builders probably have some type of backup in place or even allow you to download backups of your site. Thats pretty bad that you lost everything and could not recover it. It probably is smart to just let Vistaprint handle your printing, although many would say they are not good printers too!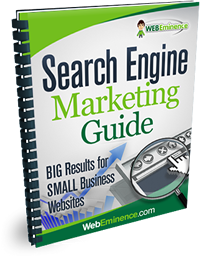 Who Owns My Domain Name? and How Do I Recover It?
Embedding YouTube Video On Your Site Tips and Clean Embed Code
7 AdWords Mistakes Youre Probably Making
CallRail Review TRACK Your Phone Calls from AdWords and MORE